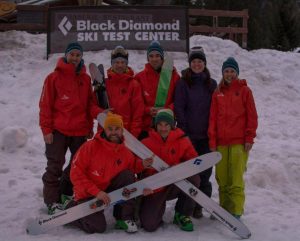 All members of the PEAKPOWDER mountain guide team are registered with the Syndicat National des Guides de Montagne Français (SNGM).
Each member of the team is a fully qualified IFMGA (UIAGM) professional mountain guide and speaks French & English.
Meet the team: Fred BERNARD, Laurent BIBOLLET, Jérôme BLANC GRAS, Giulia MONEGO & Benoît PEYRONNARD. In addition to the five permanent team members, we use the services of a dozen IFMGA mountain guides who understand the spirit of Peakpowder & share our guiding philosophy.
Our team of professional IFMGA mountain guides are in the mountains year round. Working as a mountain guide is a full time activity for each of them. It is a way of life and they chosen to make their passion for the mountains, their profession.
Why should you ski or climb with Peakpowder mountain guides?
We are a close knit team of true mountain professionals, passionate about mountain sports. We strive to take you to new limits and have you get the most out of your skiing, climbing, mountaineering or biking experience. Using the services of a mountain guide helps reduce the risks related to being in the mountains. We make sure that you optimize your time in mountains, rather than having you spend precious holiday time trying to figure things out. We make your mountain adventure hassle free. We take you to the right spots from the get go, making sure that you get the most out of your mountain adventure.
We offer an on-site logistic support and assist our clients prior to their arrival, by making arrangements for accommodation, lift passes, airport transfers and overall travel plans. No client is the same.  We tailor each program to meet the expectations and technical ability level of each client.
The Peakpowder team creates memories that last a lifetime! Savour every moment and enjoy your adventure!
The permanent members of the Peakpowder mountain guiding team are :
The slogan we live by: NEVER STOP RIDING!